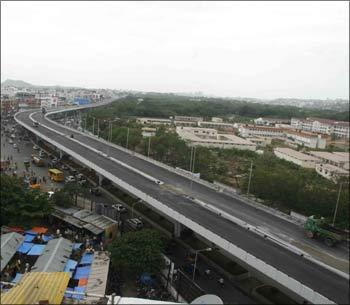 Hyderabad, Oct 19 (IANS) Access to Rajiv Gandhi International Airport at Shamshabad, about 30 km from the city, is set to become smoother and faster with India's longest flyover being thrown open to traffic Monday.
The 11.633 km long PVNR Expressway, named after former Prime Minister P.V. Narasimha Rao, connects the Mehdipatnam area in the city to the Hyderabad-Bangalore national highway (NH 7) en route to the international airport.
Built by Hyderabad Metropolitan Development Authority (HMDA) at a cost of Rs.4.39 billion, the 17.2-metre-wide four-lane elevated expressway starts at Sarojini Devi Eye Hospital at Mehdipatnam and lands at Aramghar Junction on NH 7 to join an underpass.
The airport-bound traffic will proceed further to get on to the trumpet interchange, providing faster access to the airport.
HMDA officials say the facility would cut the travel time to the airport by 30 to 40 minutes. Presently, it takes 45 minutes to one hour for a person to reach the airport from different points in the city.
The project, work on which was launched after the foundation stone was laid for the airport in 2005, has completed one-and-half year after the airport launched commercial operations.
The PVNR Expressway, which encompasses 327 spans, was delayed due to various reasons including financial constraints over the last one year.
It was last scheduled to be inaugurated on Oct 2 but was put off in view of the death of chief minister Y.S. Rajasekhara Reddy, who had laid the foundation stone for the project.
Chief Minister K. Rosaiah will inaugurate the Expressway Monday evening, fulfilling the long felt need of air passengers.
In a move aimed at ensuring fast and smooth traffic on Expressway, the Hyderabad and Cyberabad police have prohibited entry of two-wheelers, three-wheelers, all types of goods vehicles and slow-moving vehicles.
Since the down and up ramps are yet to be completed, the motorists will have to be careful while getting on to the Expressway as they will not be able to get down before covering the entire distance. However, median gaps have been provided at three points as a temporary measure for emergency U-turns.
Officials said a speed of 100 km per hour was envisaged on the Expressway but for light motor vehicles the speed limit will be 60 kmph. According to HMDA chief engineer Vivek Deshmukh, sound barriers were being installed at five points to reduce traffic noise pollution in residential and hospital zones.
The project was also mired in a naming controversy. Majlis-e-Ittehadul Muslimeen (MIM), the powerful Muslim political party in the city, and various other Muslim groups had opposed naming the Expressway after Narasimha Rao as they blame him for demolition of Babri Masjid at Ayodhya.
After the death of Rajasekhara Reddy in a helicopter crash Sep 2, these groups demanded that the project be named after the late chief minister. However, the state government ignored this demand.